2021 Hot Chocolate 15k/5k – Tampa, FL | Dec 19, 2021
15K
Ov. Name Age Group 5K 10K Finish Pace
36th Sarah Summerfield 3rd 30-34F 24:31 49:00 1:12:49 7:49
38th Taylor Gillie 1st 25-29F 24:32 49:01 1:13:11 7:52
45th Ann Hanlon 2nd 50-54F 24:33 48:58 1:14:38 8:01
61st Jeanne M Garcia 3rd 45-49F 25:46 51:37 1:17:11 8:17


5K
Ov. Name Age Group Finish Pace
8th Stephen Andrews 2nd 35-39 M 17:32 5:39
10th Kaitlyn Campo 2nd overall F 18:05 5:50
??? Brian McNulty ?????? 29:15
323rd Stephanie Bergen 15th 50-54 F 29:32 9:32
499th Guy Pomeroy 44th 14-under 32:37 10:30
Congratulations
to Danny Withers as he won the 800m at the Sr. Games in Miramar, Fl. A great finish in a time of 2:37 as he qualifies for the Sr. Nationals.
Track Shack 5K... Orlando, FL.. Dec. 4, 2021
Kaitlyn took the title with a fine time of 18:22...
She was 4th overall and kicked butt!!!
Track Shack 5K... Orlando, FL.. Dec. 4, 2021
Kaitlyn took the title with a fine time of 18:22...
She was 4th overall and kicked butt!!!
Pediatric Cancer Challenge.. Dec. 5, 2021... Tampa, FL...
Ellen Gerth won her age group around Westshore Mall.
Jingle Bell Run - Sarasota... Dec. 4, 2021
Danny Withers starting to get his strength going again and broke thru the sub 21 min. 5k race.
11th overall 20:50 6:43 pace
OUC half marathon beautiful weather and good competition. Our own Tara Sallam set a massive 3 min. PR narrowly breaking 1:30.
75th overall 6th 30-39F 1:30:58 6:57 pace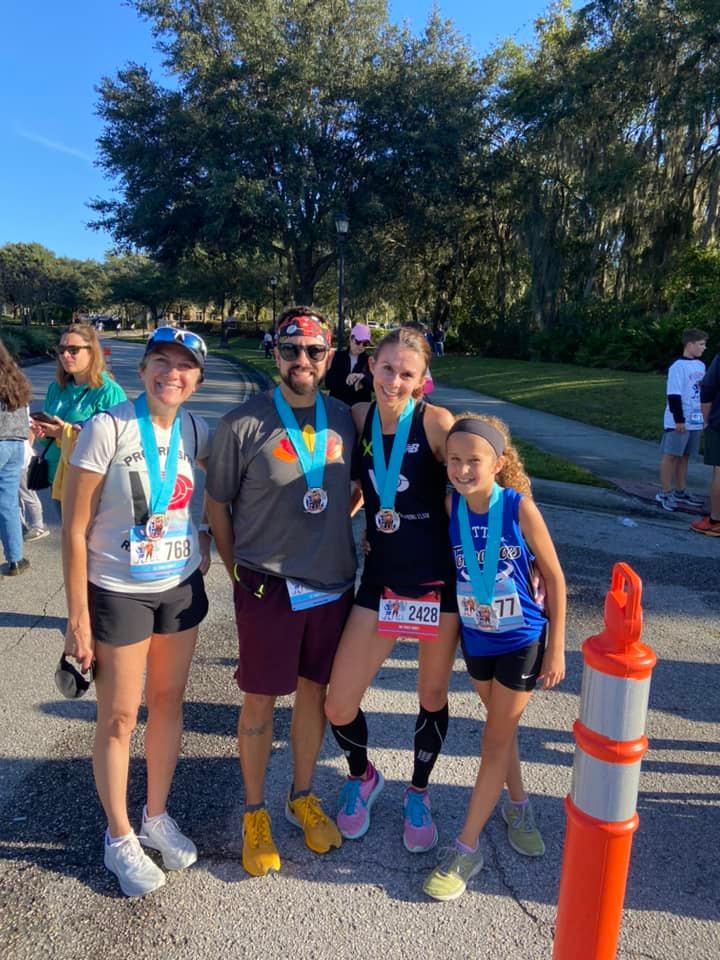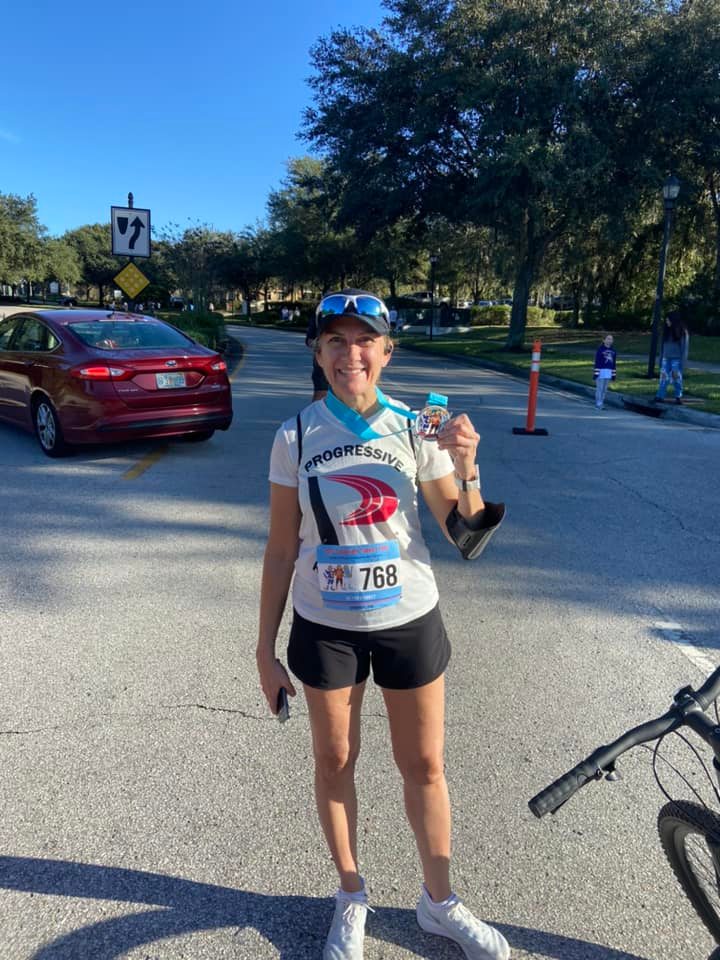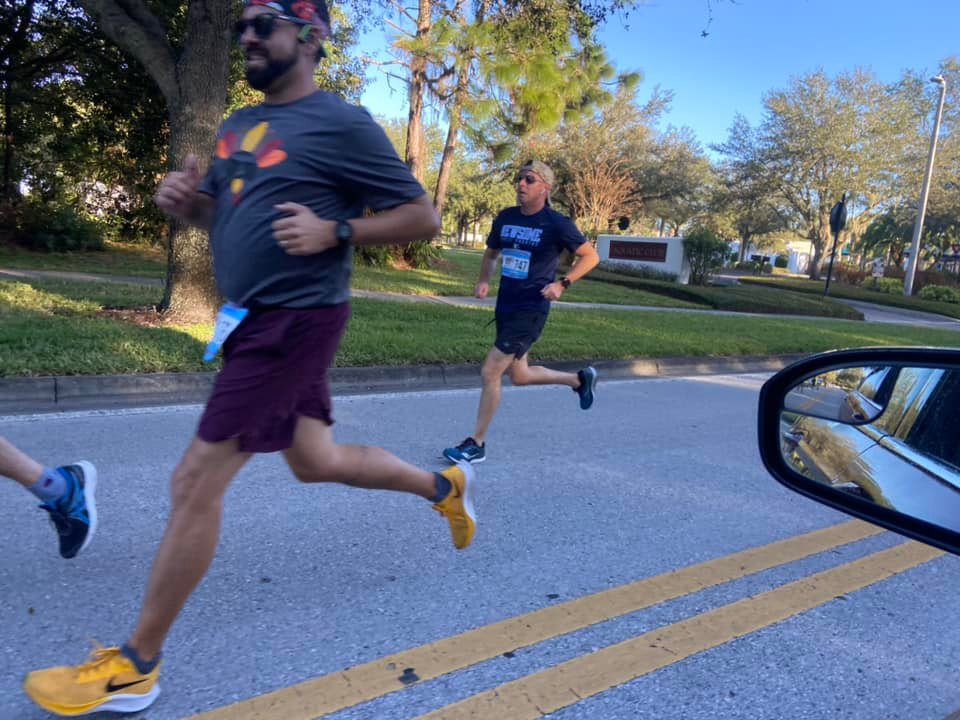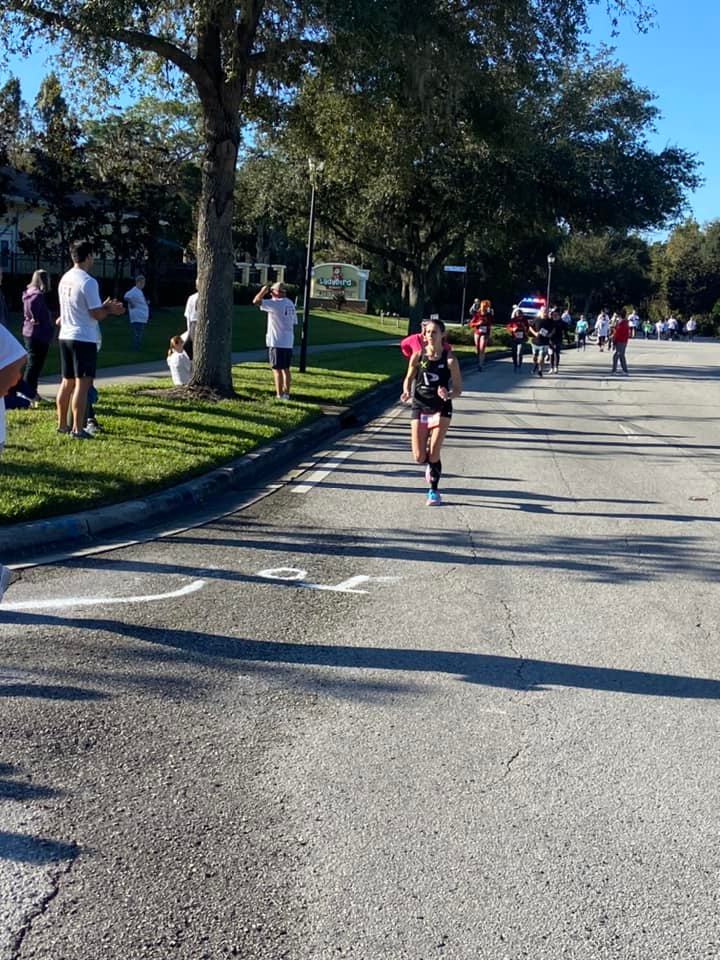 Fishhawk Turkey Trot 5k/10k… Fishhawk, FL… 11/25/2021
5K (top 50 M& F Awards)
51st Joe DiSanto 21:37 6:59
91st Hillary DiSanto 23:28 7:34
151st Michele Young 25:28 8:13
10K
19th Kathleen DiSanto 46:28 7:30


Tampa Bay Turkey Trot… Clearwater, FL… 11/25/2021
Aimee the lone representative crushed her old PR by almost 20 sec.
40th Aimee Epps 19:03 6:08 3rd overall female
2021 Waterset 5K Turkey Trot… Apollo Beach, FL… 11/25/2021
The cross family had another great outing as they finished strong…
56 Amanda Cross 23:50 7:40 3rd 35-39 F
75 Curtis Cross 26:58 8:40 9th 35-39 M
Charlotte Cross ran the mile…
Tampa YMCA Turkey Gobble… Tampa, FL… 11/25/2021
Joe Borg returned to Tampa and won the 8k race…
1st Joe Borg 26:13 5:16
11th Nate Leighton 31:35 6:21 5th 40-44M
20th Penny Primus 33:50 6:48 3rd 35-39F (3rd overall F)
28 Amanda Spack 36:08 7:16 1st 40-44F
29 Laura Jansik 36:08 7:16 1st 50-54F
40th Anna Murray 36:55 7:26 3rd 40-44F
44th Ann Hanlon 37:09 7:28 3rd 50-54F
78th Renee Marcus 39:52 8:01 6th 45-49F
David Osterweil led the family and progressive runners in the family. While Claudia Cancello won the women's race.
4th David Osterweil 18:09 5:50 1st 40-44M
6th Claudia Cancello 18:14 5:52 1st overall F
19th Elaina Cancello 20:11 6:29 2nd overall F
56th Sarah Summerfield 21:53 7:02 2nd 30-34F PR
89th Jen Eggleston 23:19 7:30 1st 40-44F Pacing Enzo
94th Enzo Eggleston 23:21 7:30 1st 13-under M
110th Harry Eggleston 23:54 7:41 2nd 13-under M
127th Bailey Eggleston 24:12 7:47 1st 13-under F
170th Sloane Osterweil 25:07 8:05 10th 13-19 F
266th Jon Stein 26:38 8:34 3 65-69 M
270th Nickey Cahill 26:44 8:36 40th 13-under M
397th Bryan McNulty 28:55 9:18 43rd 40-44M
766th Laura Osterweil 34:34 11:07 65th 40-44F pacing Zach
838th Karen Branch 36:07 11:37 44th 50-54F
955th Michelle Wherely 38:45 12:28 116th 30-34F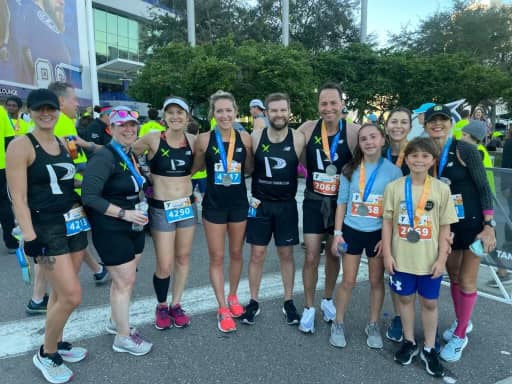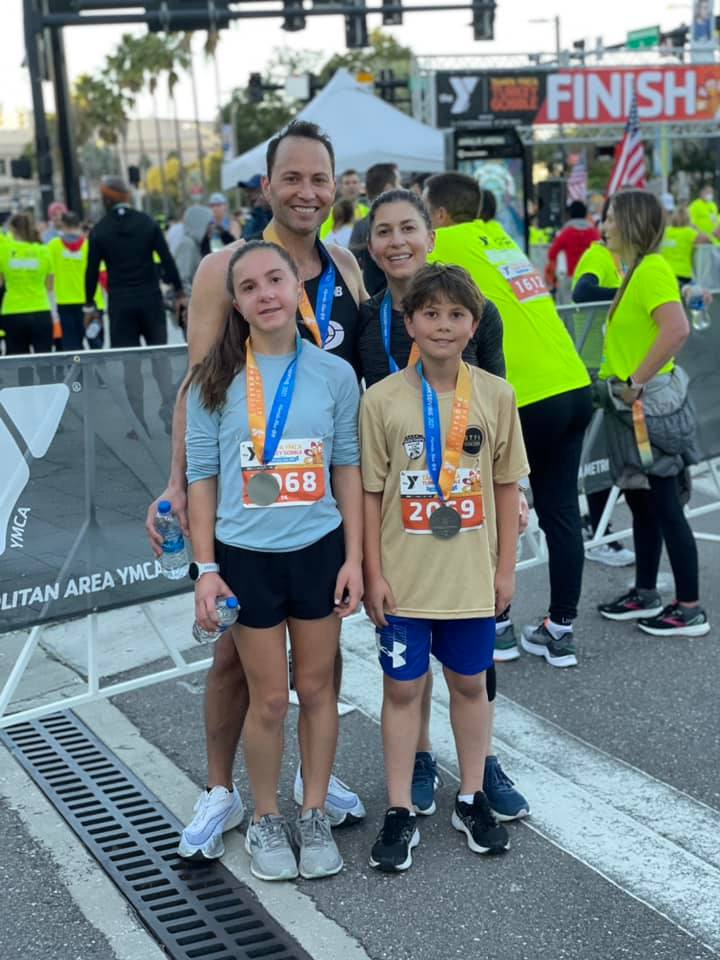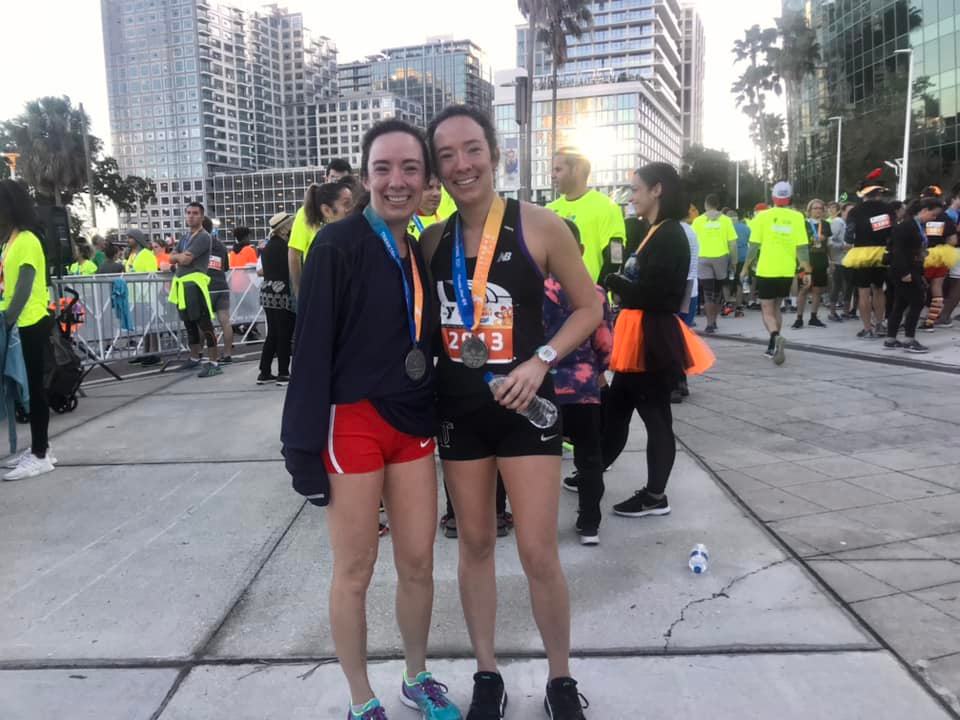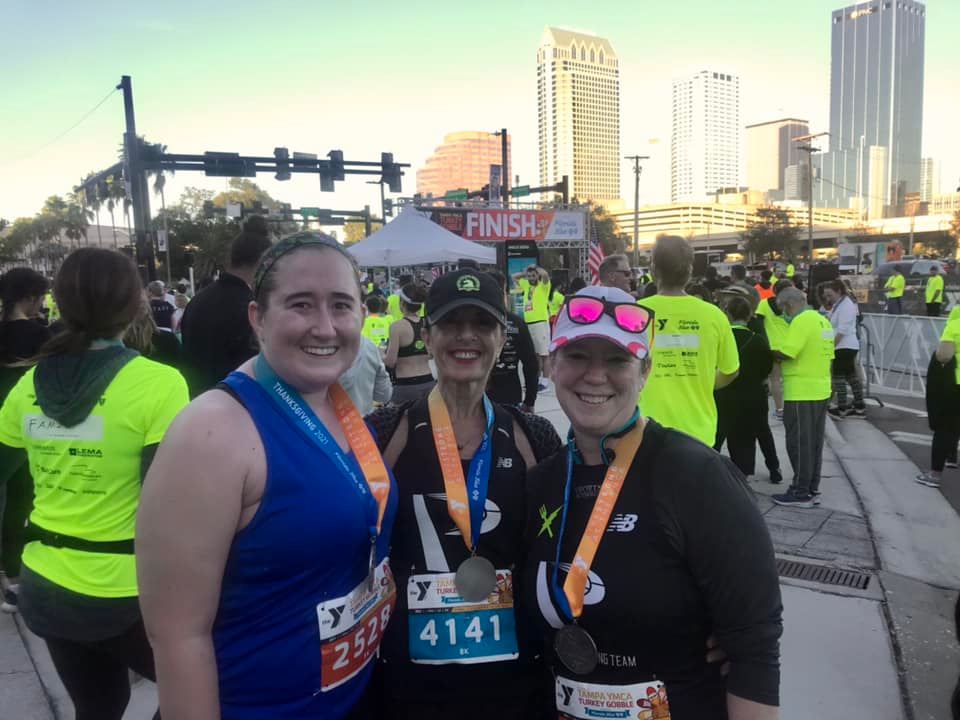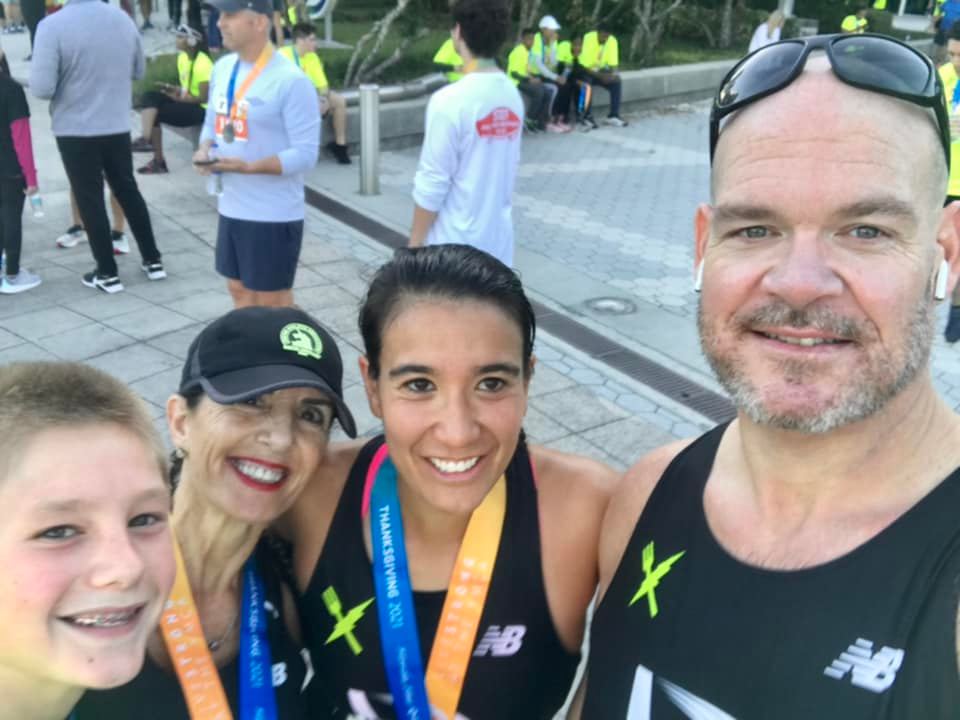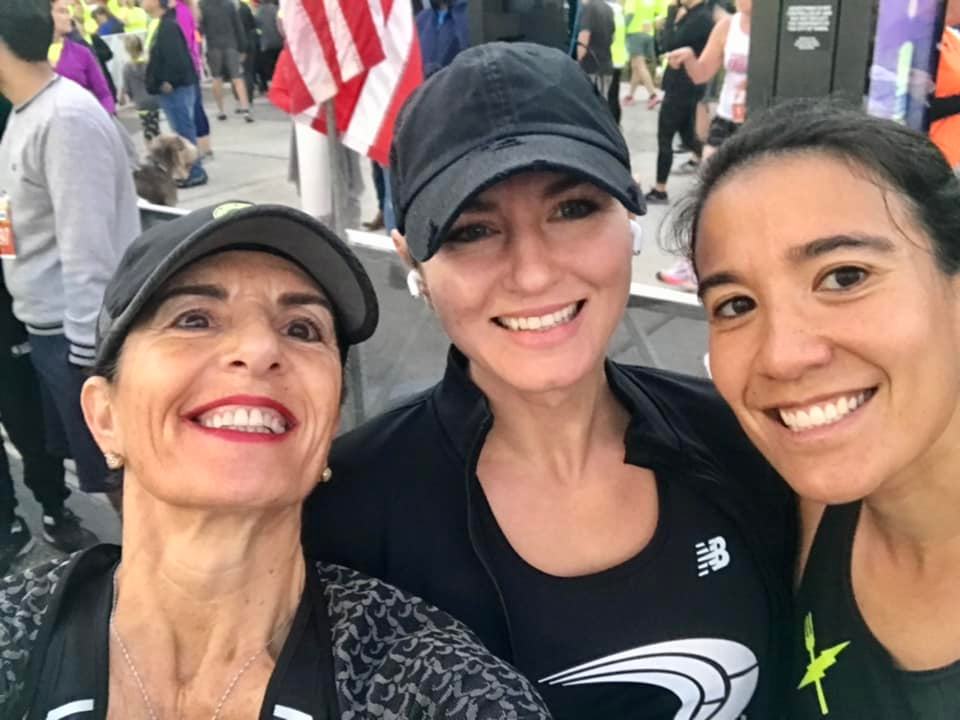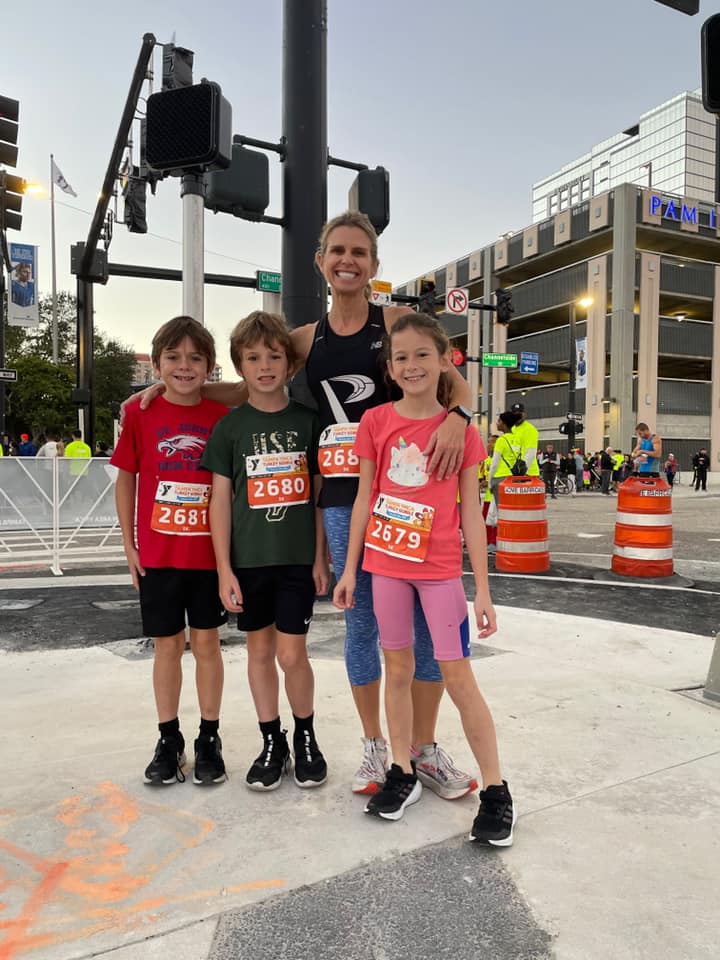 Coffee Pot Turkey Trot... St. Pete, FL... 11/25/2021
Kelsey stepped out her door and crushed the turkey trot in her neighborhoods.
9th Kelsey Mackey 18:08 5:50 1st overall F
36th Annual Sugar Land, TX… Sugar Land, TX… 11/25/2021
43rd Danny Withers 35:44 7:09 2nd 60-64M
Fort Myers Turkey Trot 5K… Fort Myers, FL… 11/25/2021
16th Madeleine Gear 18:19 5:54 2nd overall female PR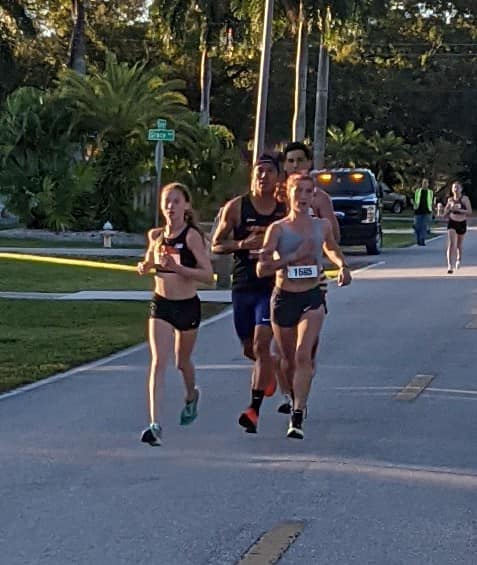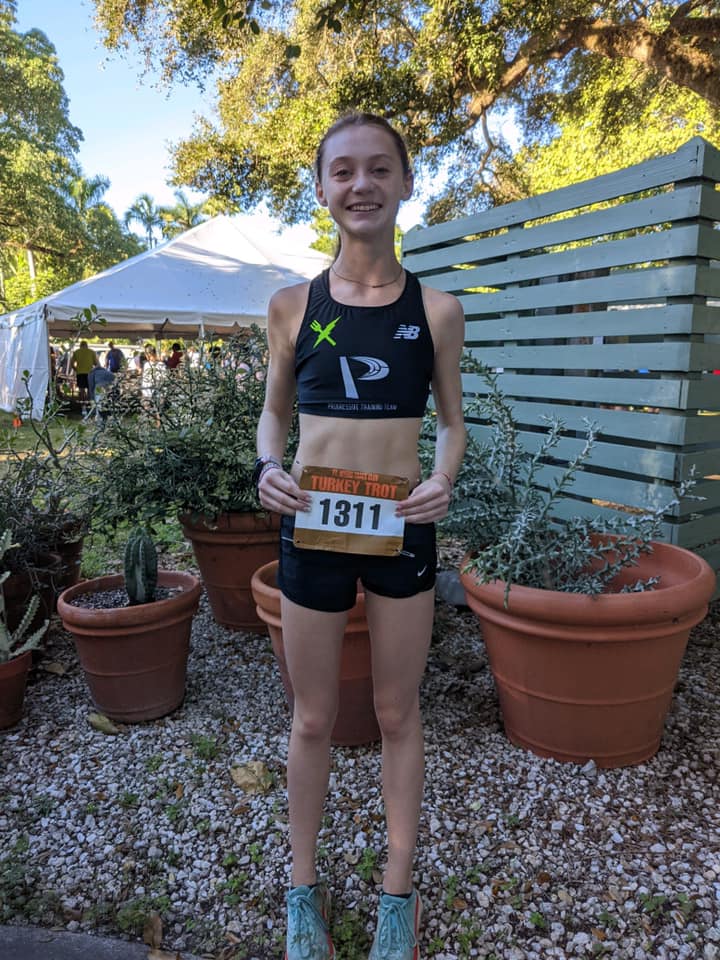 Gobbler 5K and 1 mile… Starkey Park, N. Port Richey, FL… 11/25/2021
106th Cynthia Spidell 26:01 8:24 3rd 51-60 F
Rivercrest Ready Set Grow 5K... Nov. 20th, 2021
Cross Family took care of business on a course that was a bit off.
6th overall Amanda Cross 27:07 2nd overall female
12th overall Curtis Cross 30:22 4th 40-44m
while little Charlotte was 3rd in the kids dash..
Progressive Team out and about kicking butt on both of side of the bay. In Tampa we had the Bolt Run 5K/5 mile races. While in St. Pete we had the St. Pete Run Fest 5K/10K/half marathon. Nov. 11-12, 2021...
In Tampa...
Kaitlyn Campo took care business with a 6th overall place and 1st overall Female in a time of 18:14....
Rebekah Haddad ran a nice PR time of 20:34 to win her age group
Printha Nava ran 28:23 for 6th in her age group
Brian McNulty running his first race in a very long time after surgery finished strong.
In the 5 miler... It was the old coach winning in 29:57 while Michele Young finished 2nd in her age group in 43:48.
In St. Pete...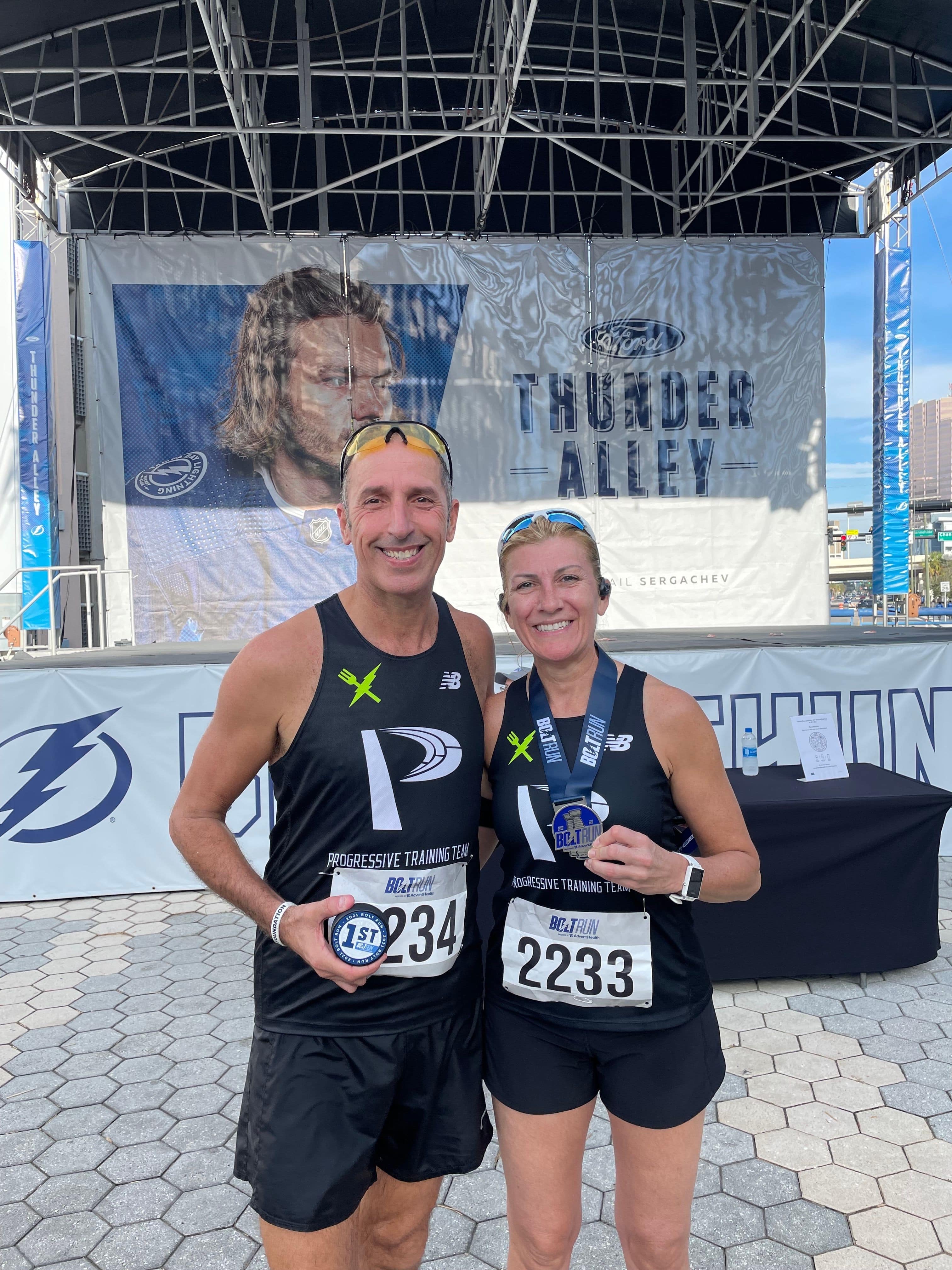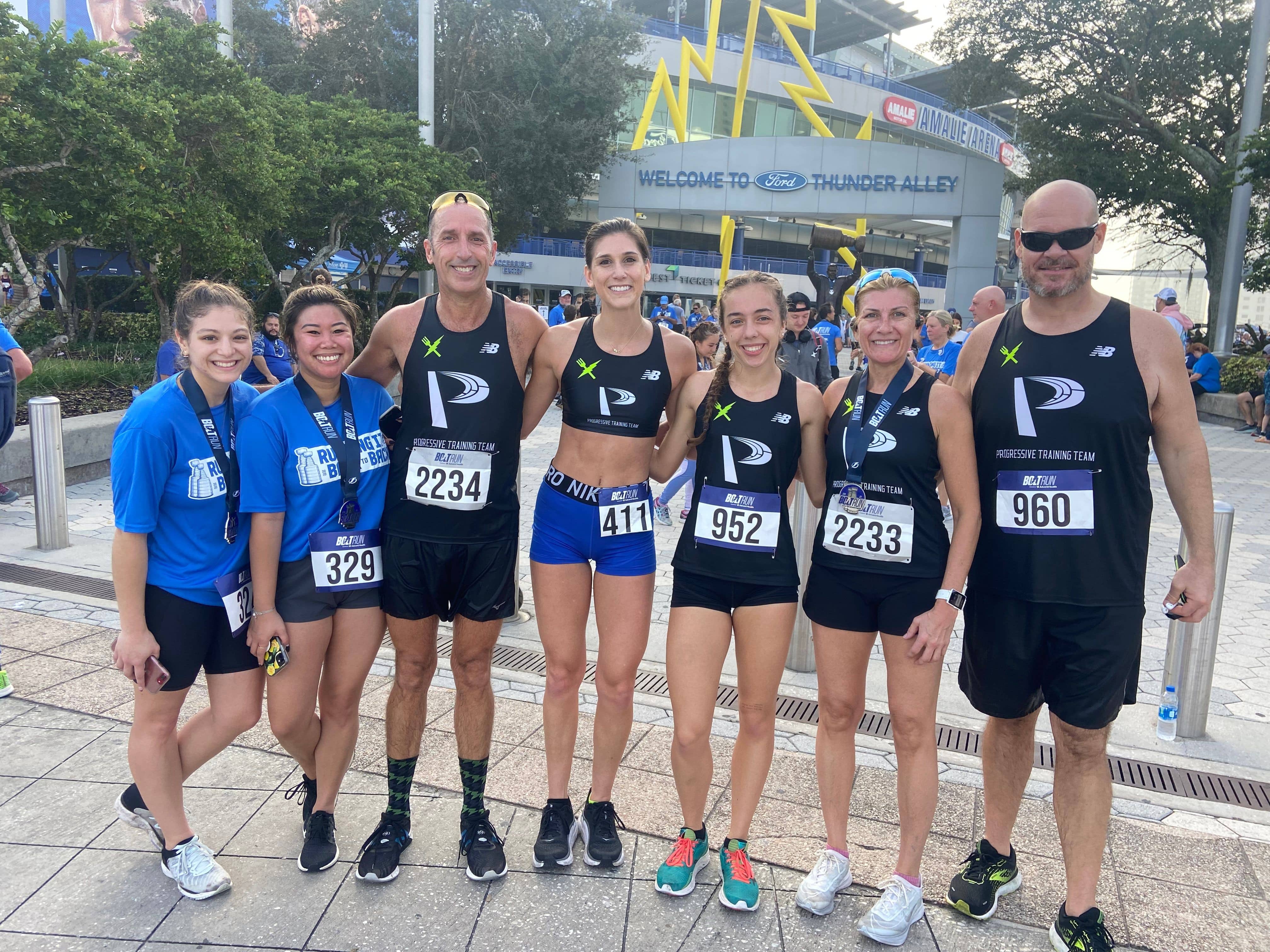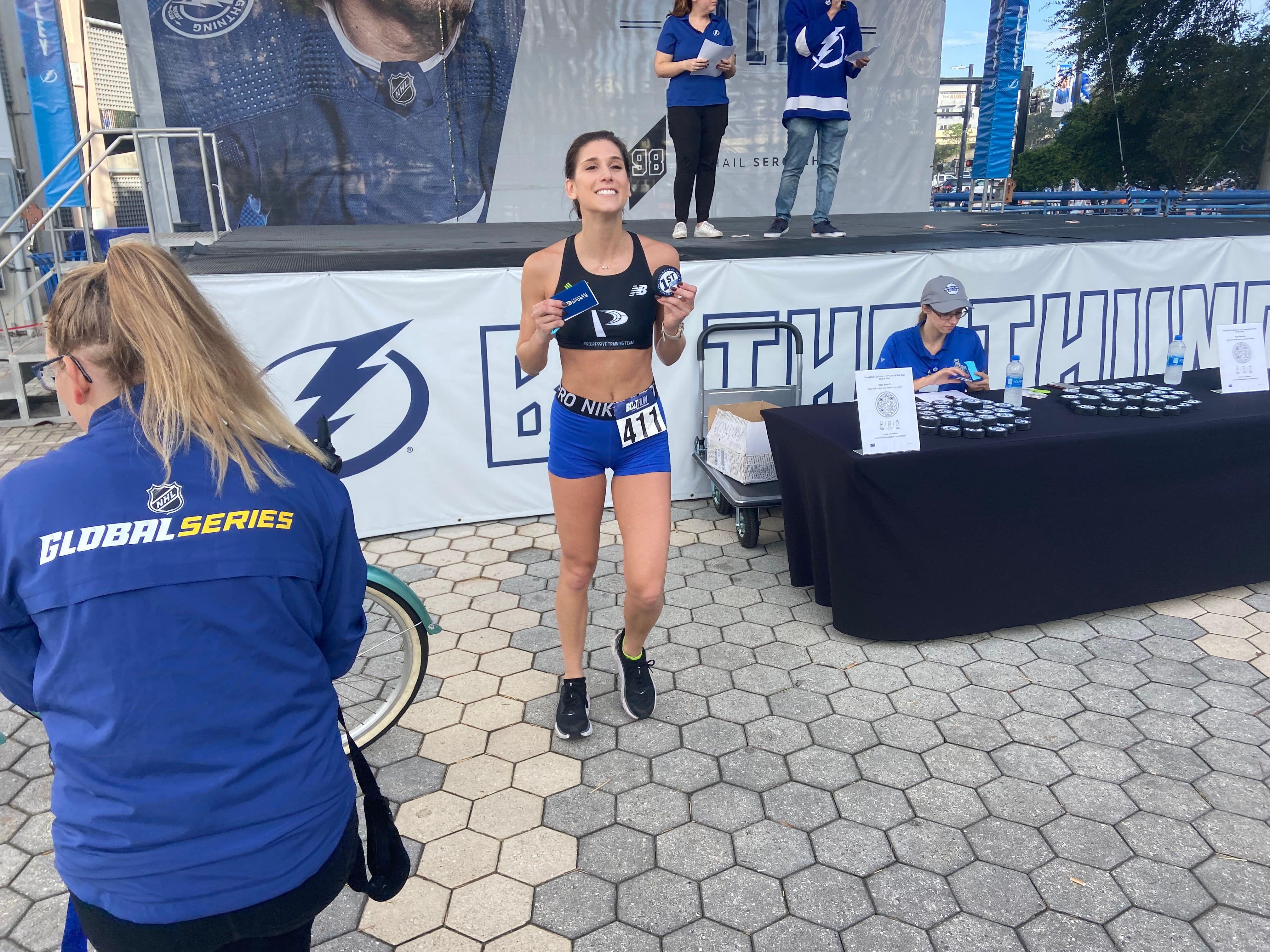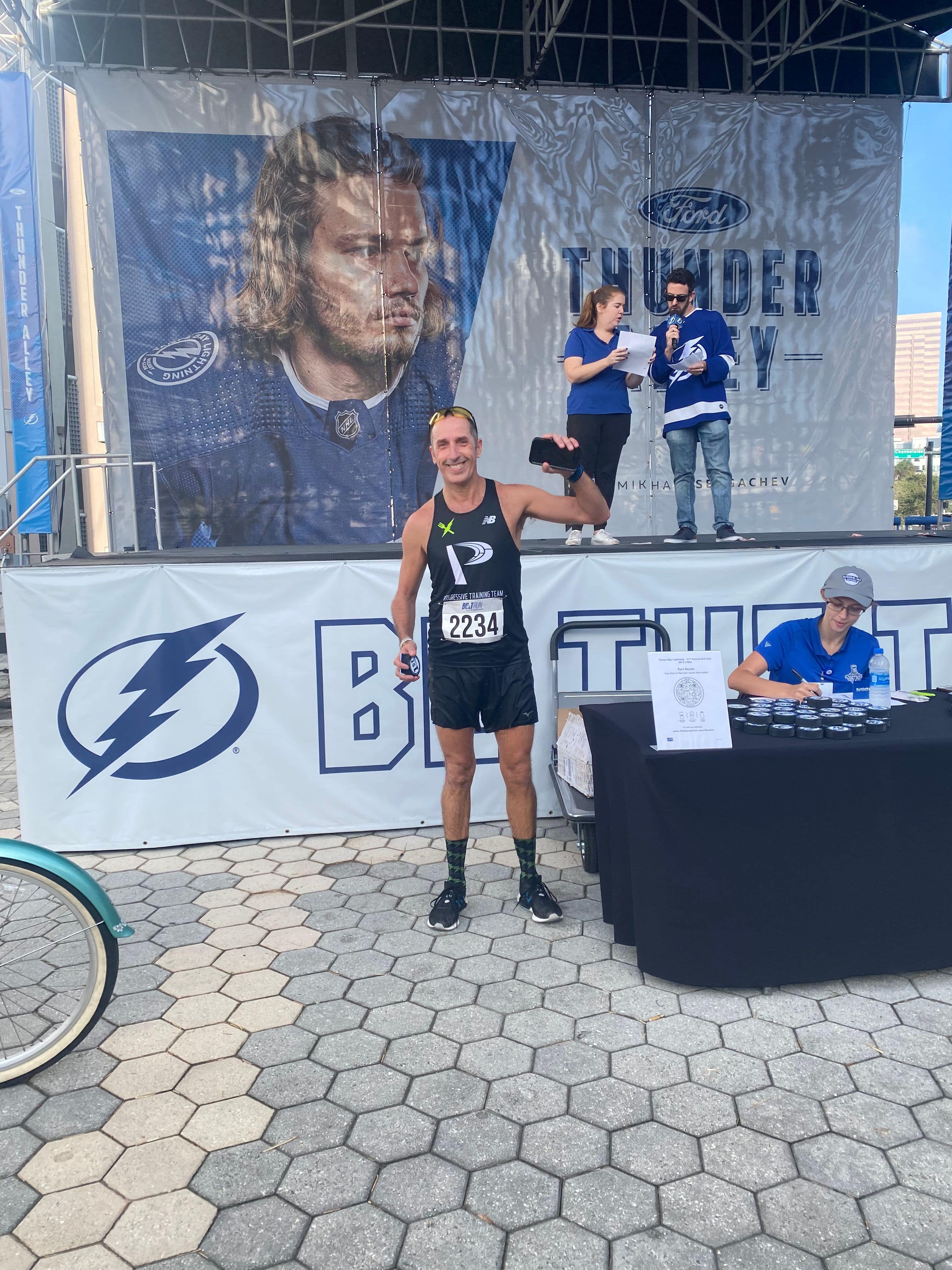 Progressive Team out and about kicking butt on both of side of the bay. The St. Pete Run Fest... seemed to have a few glitches so results are off and distance might have been a bit off. Progressive ladies took the top 3 spots...
Kelsey Mackey won the 5K running around 5:45 pace but course ended almost 3.2 miles. Time was 18:28 (5:56 pace)
Claudia Cancello was 2nd in 18:58 (6:06 pace)
Aimee Epps was 3rd in 20:02 (6:26 pace)
Danny Withers won his age group in 21:59 (7:04 pace)
In the 10K...
Claire Chapman was runner up female in 40:05
Leslie Beauchamp was 6th in her age group in 46:54 (7:32 pace)
In the half marathon it was the team of Father/Daughter taking care business.
78th Chuck Talley 1:37:58 (7:28 pace)
368th amanda cross 1:56:49 (8:55 pace) PR


Doing the full challenge
5K--75th overall Stephen Fiorilli 25:44 (7:39)
10K--49th overall Stephen Fiorilli 46:28 (7:28)
Half--186th overall Stephan Fiorilli 1:48:01 (8:14)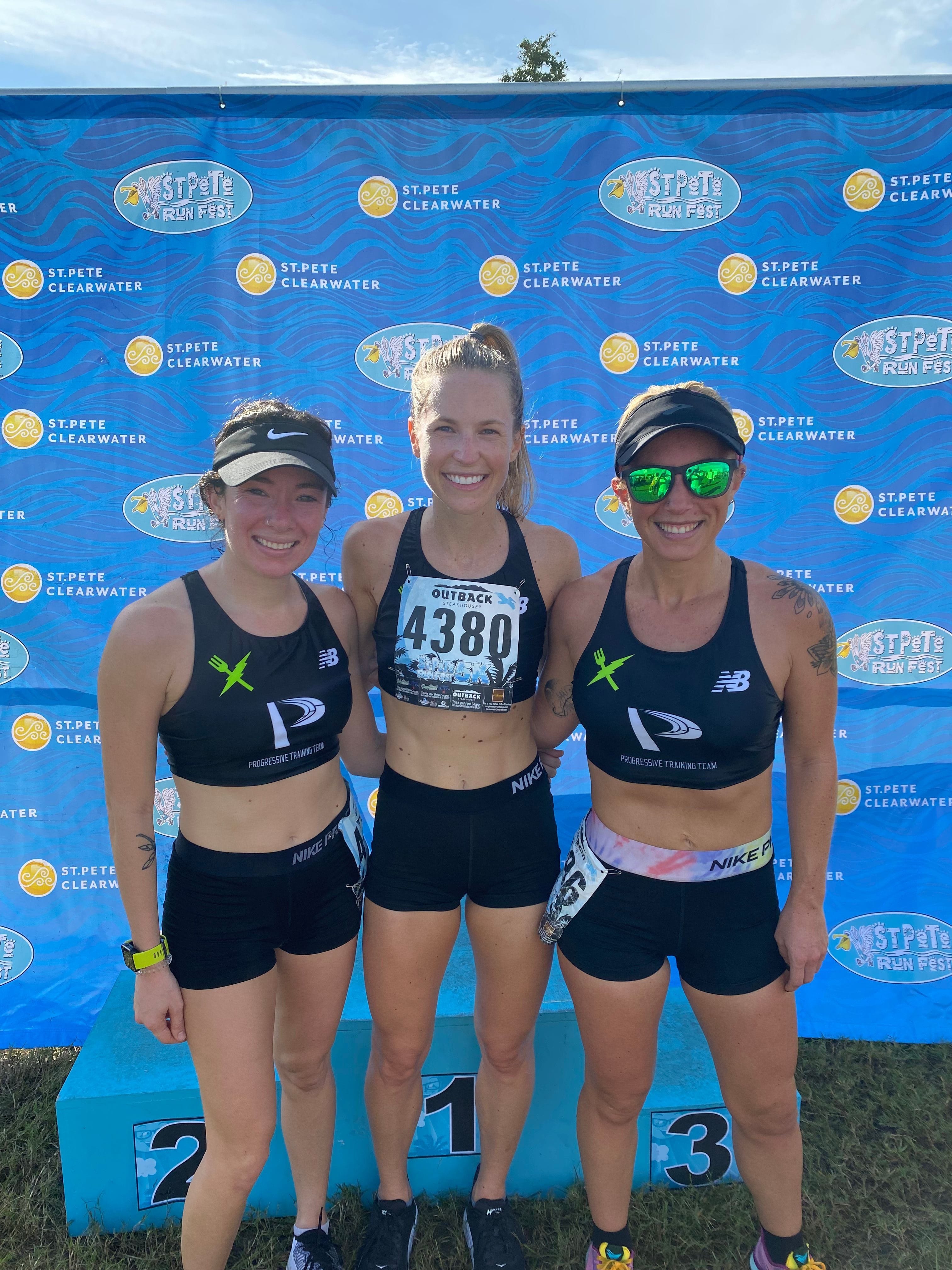 Tom Walker Half Marathon & 5k
Gainesville, FL... Nov 7, 2021...
Davis Mahon traveled to Gainesville where last year some of our runners had great success in the marathon. He ran the half marathon finished a strong 3rd picked up $50 and a big PR.
3rd overall Finish time 1:22:37 Pace 6:18
November 6, 2021 in Indianapolis, IN
Great day proved for a big PR for Stephen in the marathon....
363rd overall
Stephen Andrews
M 35-39
10K: 43:21 6:59
Half: 1:29:45
30K: 2:07:36 6:52
Finish 2:57:33 6:47
2021 Tampa Fire 5K-The REAL 10th Anniversary... Nov. 6, 2021...
10th Chris Rapozo 17:53 2nd 35-39m
46th Renee Marcus 23:57 2nd 45-49f
Run for the Boos Halloween 5k Whiskey Joes... Tampa, FL 10/31/2021...
3. 189 Griffin Nathan 00:20:57.0
8. 191 Murray Anna 00:23:34.6
Beautiful weather leads to great weekend races.
2021 Northdale Pumpkin Run... October 30, 2021
21 Renee Marcus 2nd 45-49F 24:17 7:50/M
Great Westchase 5K/10K... Tampa, FL.. 10/23/2021
Congratulation to Tara Sallam on her overall win in the 10K.
2 Tara Sallam 1st overall F 44:03 7:05/M
Tampa Bucs Treasure Chest 5K/10K... Tampa, FL... 10/23/2021 Kaitlyn Campo takes the win with a time of 18:41...
8 Kaitlyn Campo 1st overall F 18:41 6:00/M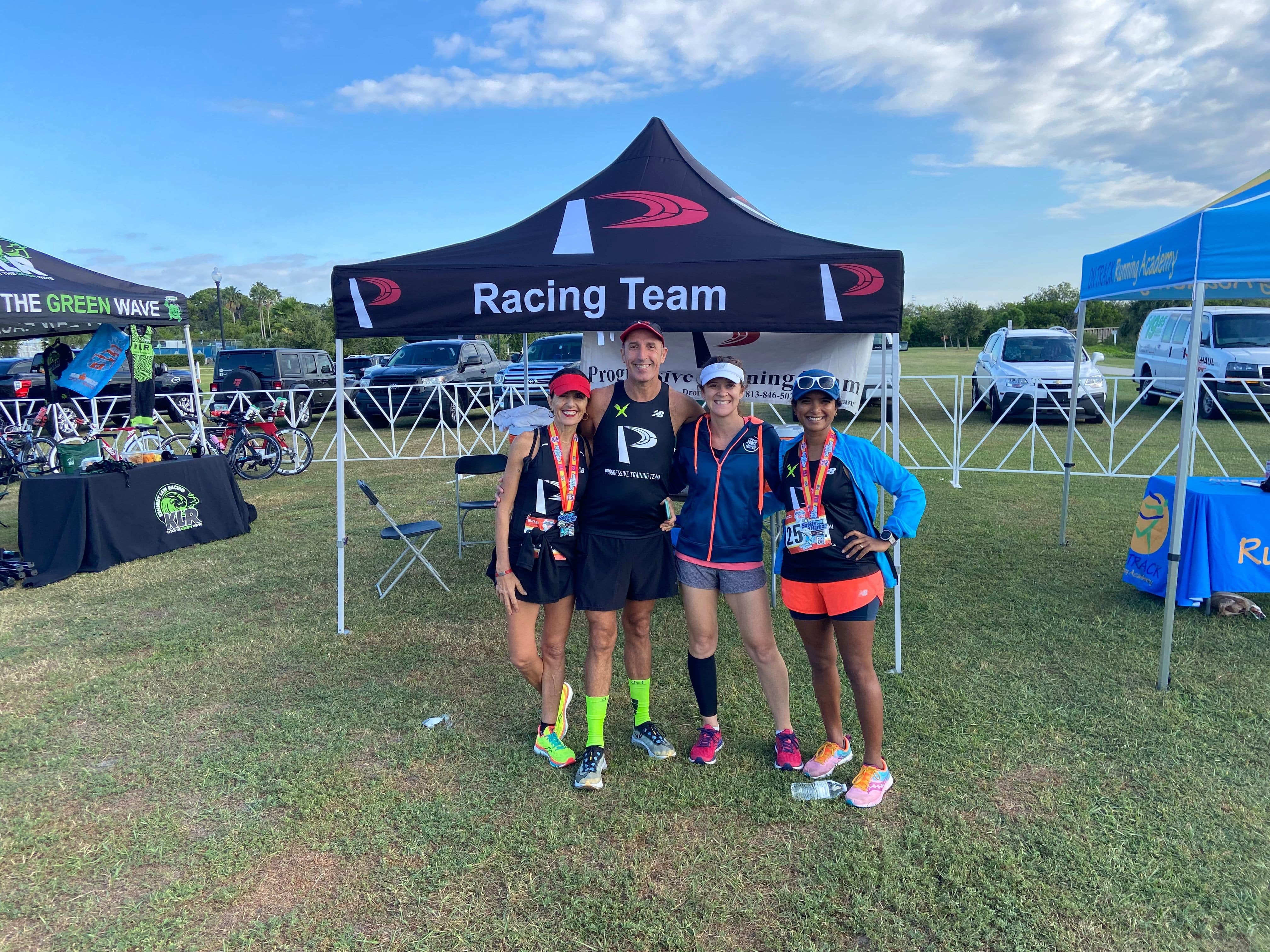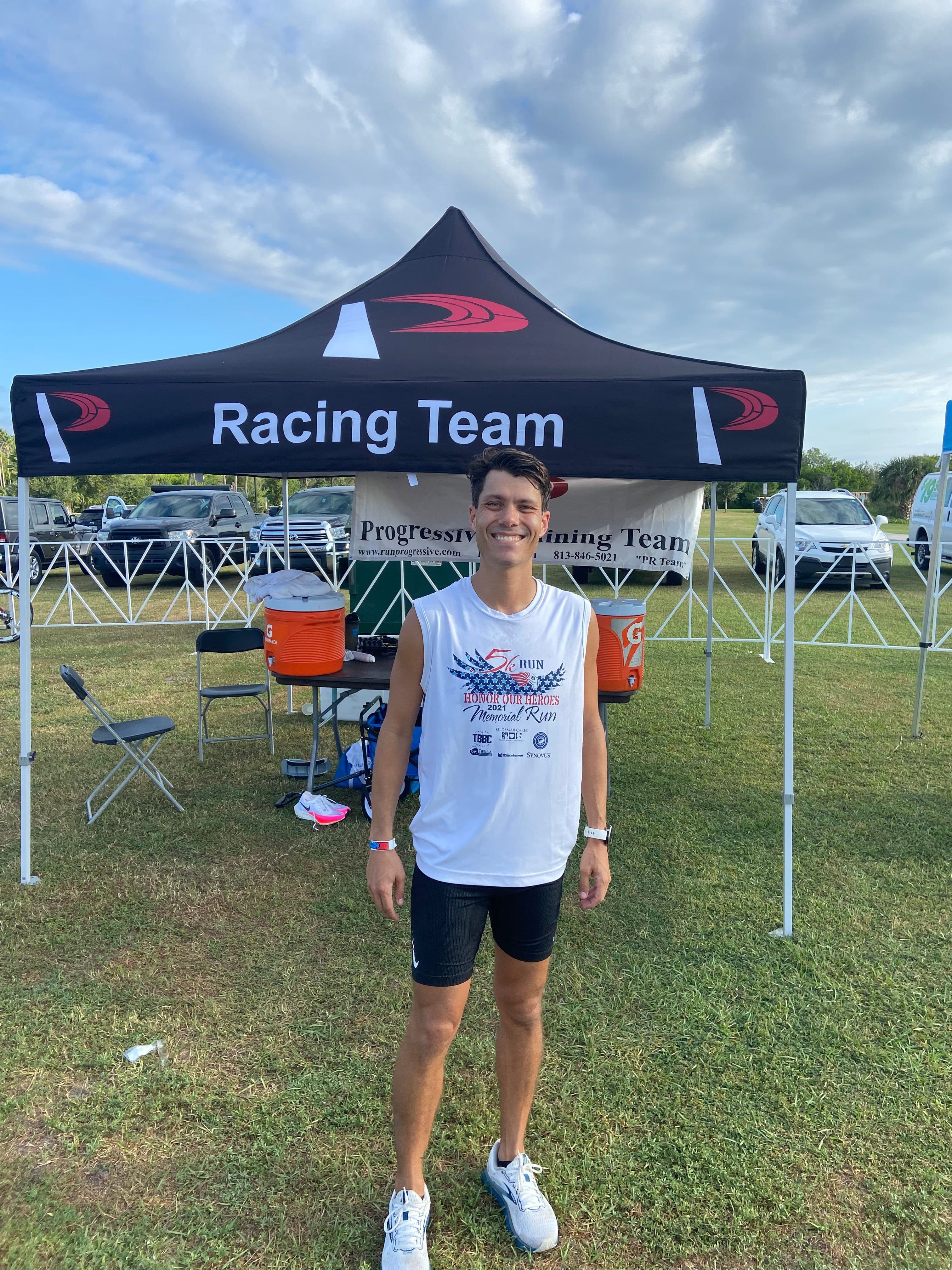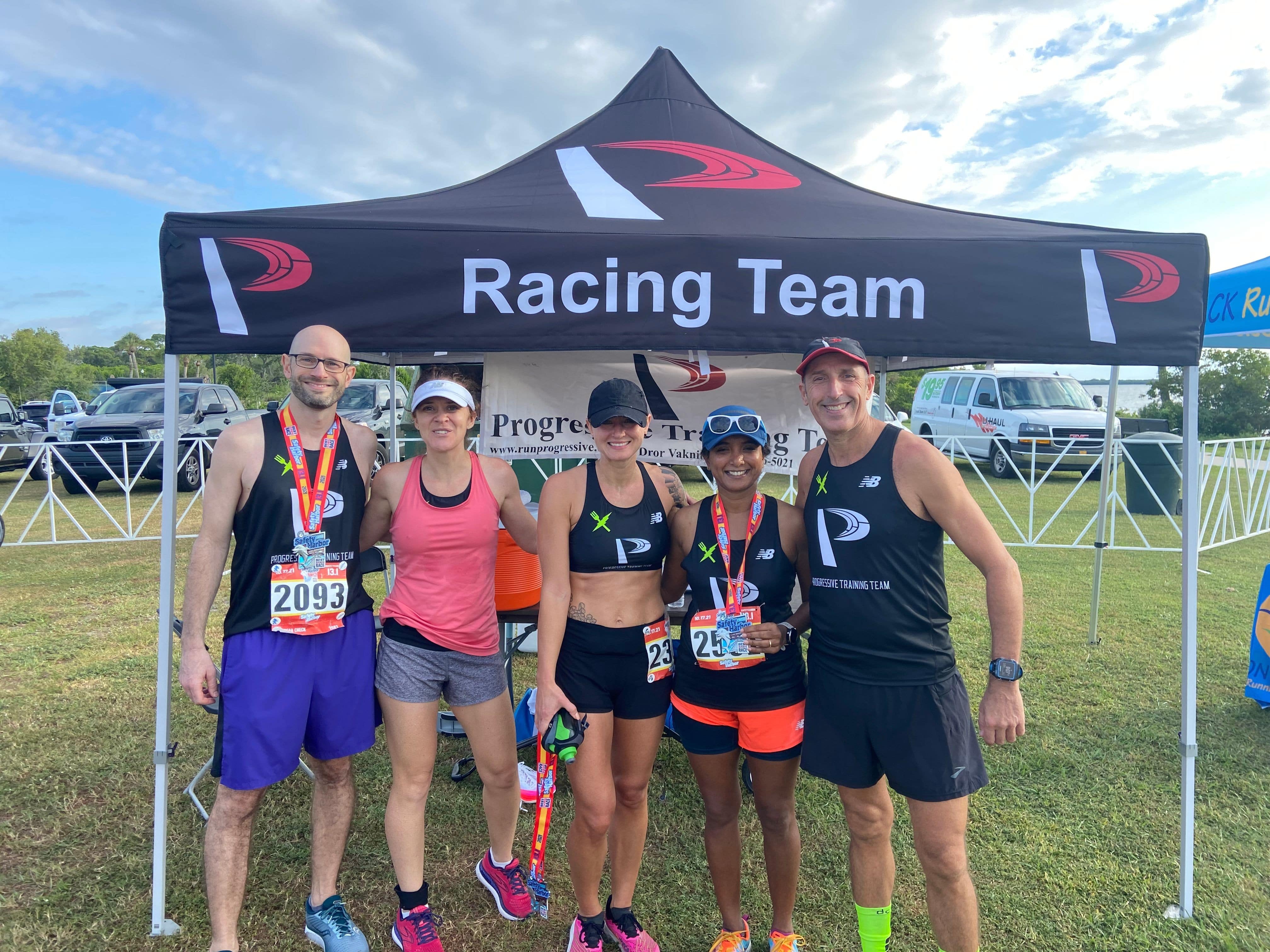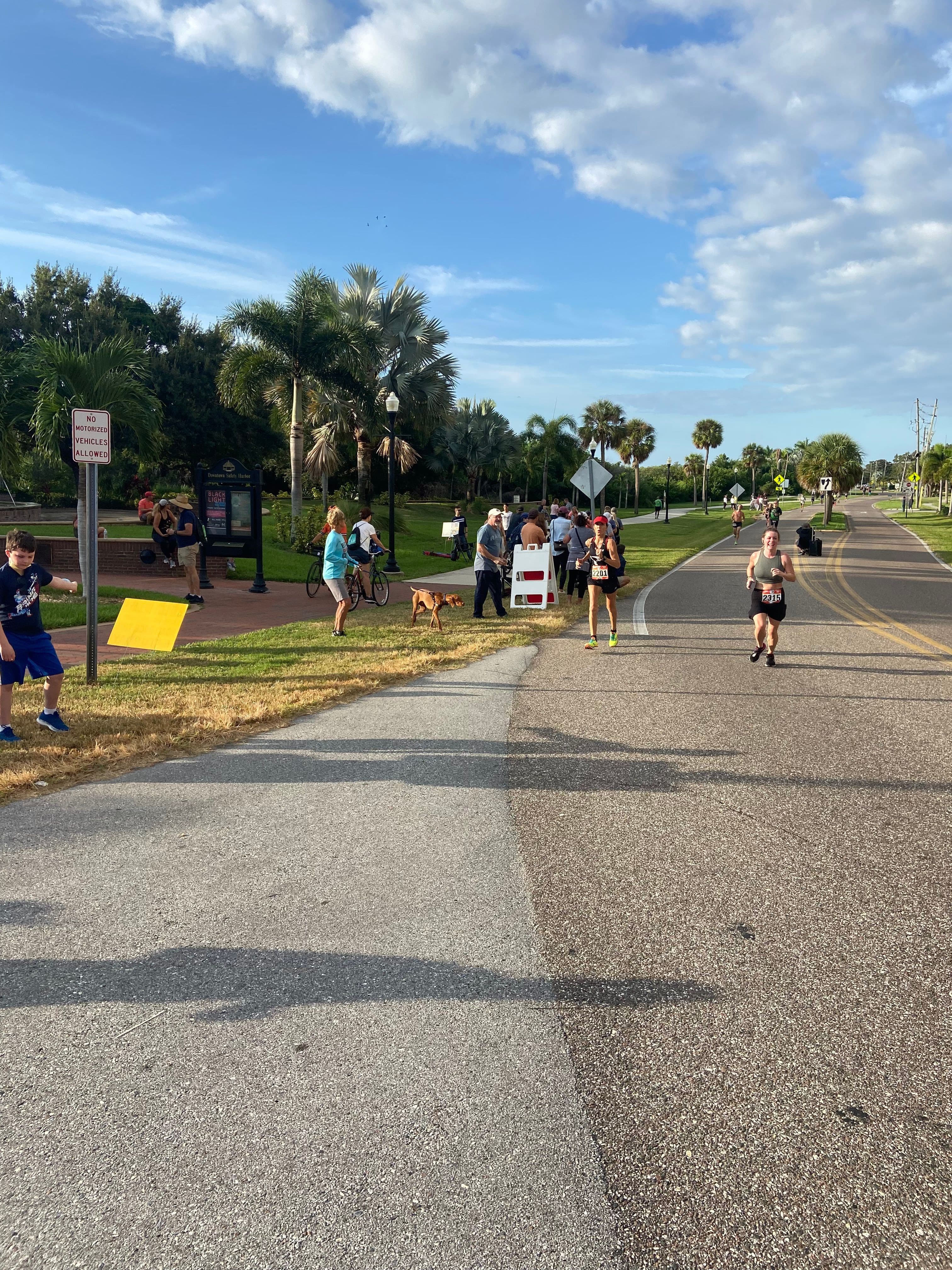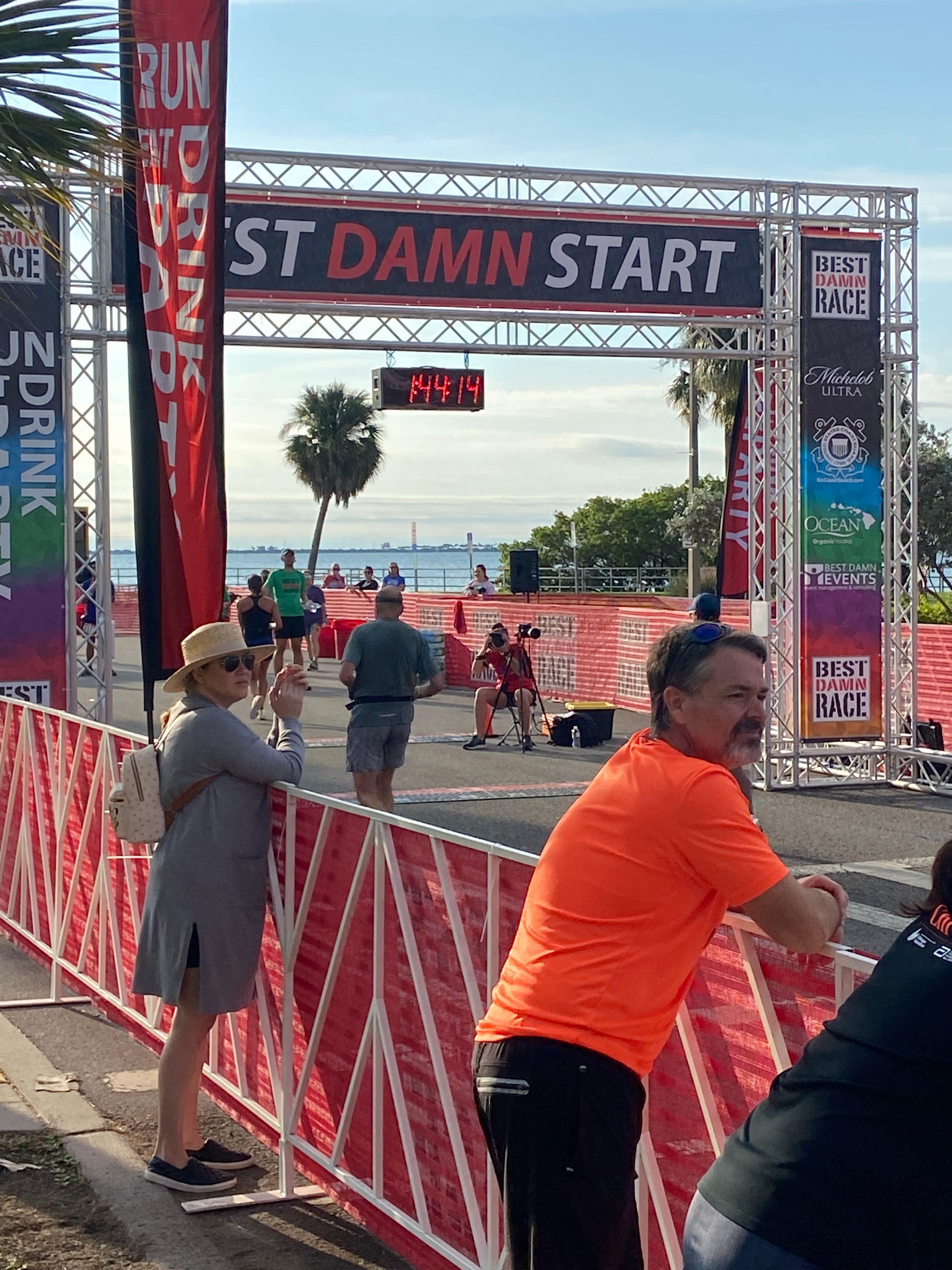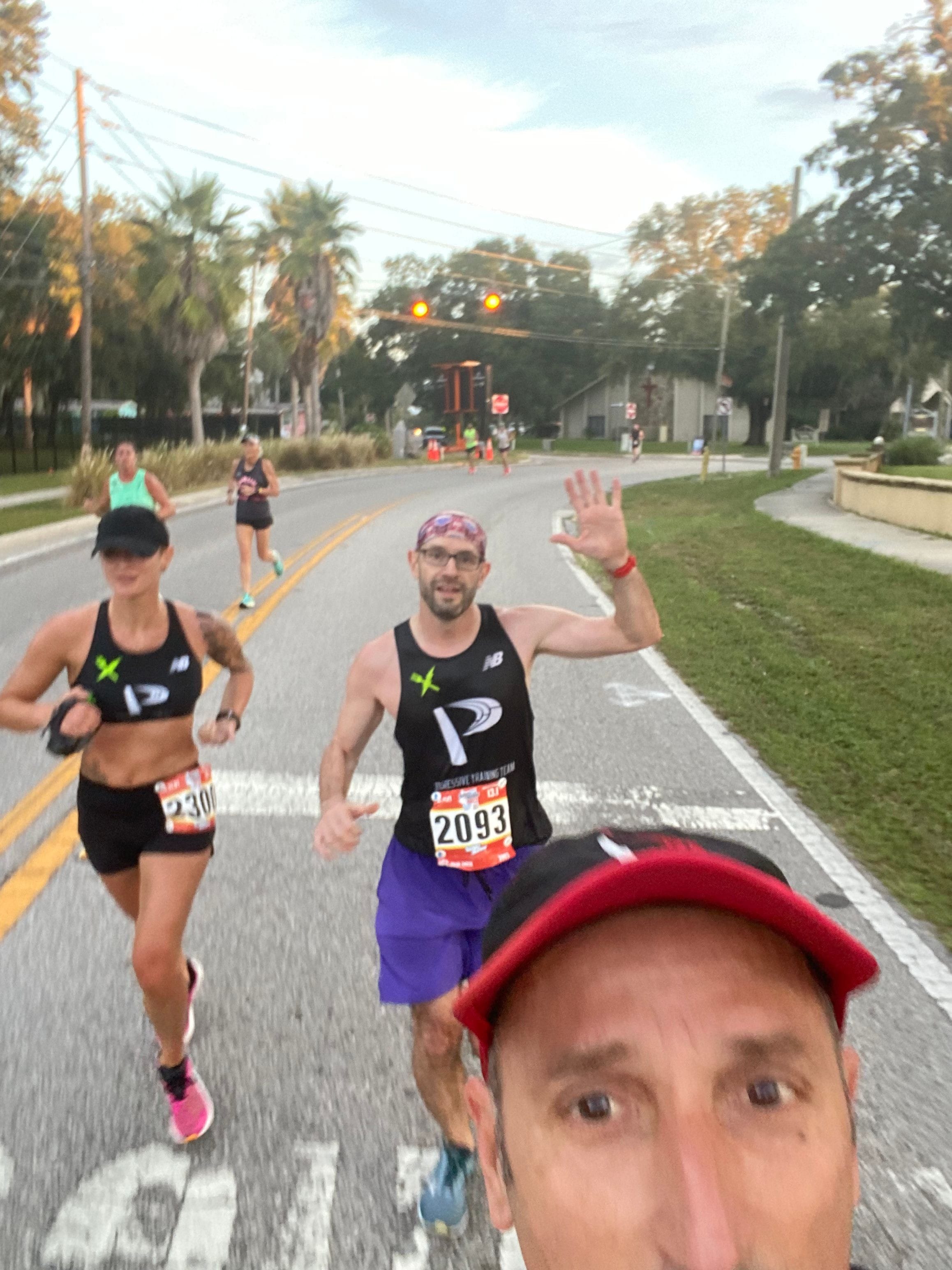 Best Damn race... progressive make it their weekend!!!
thank you nick zivolich for putting on a great event as always!!!
sunday featured race was the half marathon. weather was cooler and got better for the first hour. stephan Andrews went to town and finished strong as he ended 2nd overall in the race. meanwhile i paced a 1:45 pace as our progressive runners took advantage and worked together for the bigger part of the race.
half
2nd stephan andrews 1:21:37
52nd madhavi othuluru 1:44:10 (1st 40-44f)
laura jansik 1:46:47 (1st 50-54f)
91st stephan fiorilli 1:49:31 (14 40-44m)
97th anna murray 1:50:02 (2 40-44f)
amanda spack
Yesterday in the 10k the men took care off business as jan figueroa pulling the double with a xc race yesterday in tallahassee, then came back to win and pr big time in 31:48. trevor kattenberg visiting from up north was second and rj dorazil was 3rd.
In the women it was lexy hazel 2nd overall.
In the 5k it was kelsey mackey winning in 18:04 while aimee epps was 3rd in 19:35.
10k results
1st jan figueroa 31:48 pr
2nd trevor kattenberg 33:13
3rd rj dorazil 33:34
9th david osterweil 39:40 (1 40-44m)
15th lexy hazel 42:15 pr
23rd penny primus 43:45 (1 35-39F)
95th renee marcus 51:46 (2 45-49f)
805th karen branch 1:30:19https://rest.edit.site/filestorage-api-service/08337eca078f62963647fa9ab344b25b/616b-28-cb-9-a-3-d-630-eca-6-b1965.jpg
5K
3rd kelsey mackey 18:01 (1st overall female)https://rest.edit.site/filestorage-api-service/08337eca078f62963647fa9ab344b25b/616b-28-cb-9-a-3-d-630-eca-6-b1965.jpg
8th aimee epps 19:35 (3rd overall female)
32nd Nirvan sangaraju 22:49 pr (1st 8-11m)
(1st Kelsey and 3rd aimee in 5k) (Jan, Trevor, and RJ in 10K)
Chicago Marathon... a little warmer but cloudy
Rough day out there when you look at the results... The top 10 men and women at chicago you see the difference... in 2019 men 2:05-2:10, women 2:14-2:30
In 2021 men 2:06-2:14, women 2:22-2:33
David Demarcay 3:45, Ellen Greth 3:47, Raju romaka 3:55, Taylor gillie 3:59, sarah lytle 4:08...


boston marathon... better temps better times...
amazing effort by claire chapman 3:08:50!!!!
Augusta 70.3... Augusta, GA... 9/23/2021 A good day as the water leg is always fast so save some energy.
A big congratulation to our Eddie Carvallo as he finished one of his best times in 5:12:15
566th overall 64th 40-44M
Swim 1.2 miles in 27:56
T#1 4:54
Bike 56.1 miles 2:37:52
T#2 4:18
Run half marathon 1:57:16
Cheval Cares 5K... Sat. 9/23/2021... Tampa, FL
Baby #2 (Georgia) just came at the same time RJ Dorazil takes Baby #1 (Lucy) for a ride and a win in 17:15. (Thats flying with a baby jogger)
Madeleine Gear Makes her debut at Cambridge Christian Academy with a 2nd place and a big PR of 19:21...
armadillo Road Race... saturDAY aug 28, 2021
2nd overall rj dorazil 34:43 5:35 pace 1st in 40-49m
14th overall renee marcus 25:43 8:17 pace 1st in 40-49f
74th overall karen branch 40:08 12:55 pace 9th in 40-49f
end of summer mile race... saturDAY aug 7, 2021
Saturday night at the track 20 people, 2 heats young and older runners. Good races fun time, great prizes, and satisafied PRs for some.
Check out the YOUTUBE link at the bottom of home page for videos of the races
freakin hot 5K... saturDAY aug 7, 2021
As advertised but a really nice way to run have a cold beer and some hot wings at the end. Progressive runners put on a clinic as they took hardware all around. Leading the way RJ Dorazil won the overall race in 15:56 Eric Hall was 7th in 17:39 (5:41 pace) and 1st in 40-44M Claudia Cancello finished 13th overall, 2nd female overall in a time of 18:55 (6:05 pace) Courtney Ragan finished 22nd overall, 1st in 25-29F in a time of 20:15 (6:31 pace) Penny Primus finished 36th overall, 1st 35-39F in a time of 21:17 (6:51 pace) Renee Marcus finished 91st overall, 3rd 45-49F in a time of 24:29 (7:53 pace) Amanda Cross finished 134th overall, 8th 35-39F in a time of 25:52 (8:20 pace)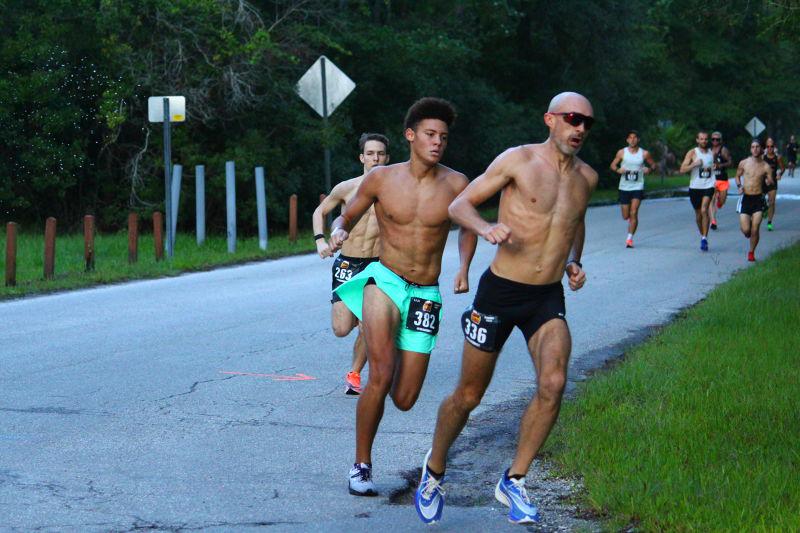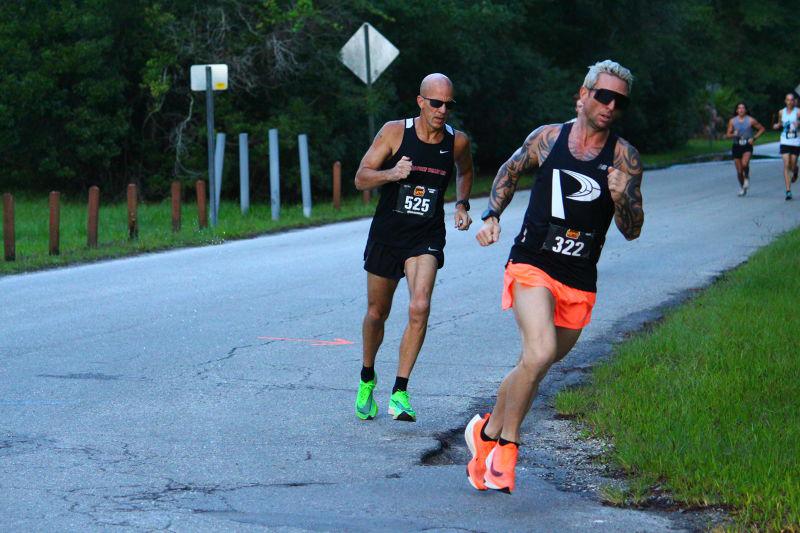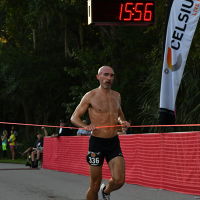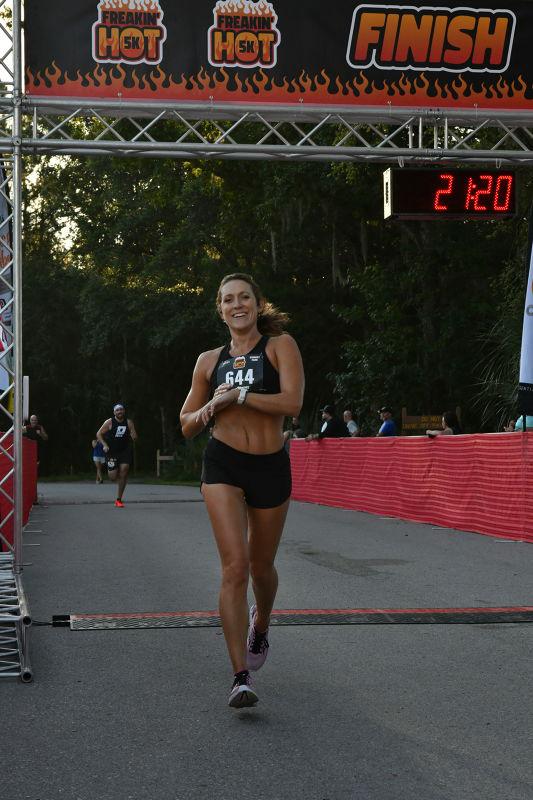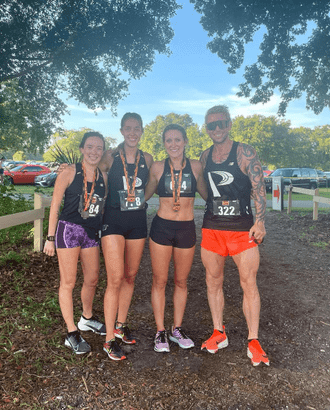 FULL MOON XC 5K... FRIDAY JULY 23, 2021
Nice hardware and a gift certificate

A very hot race as heat index reached over a 100 degrees. Danny Withers won the grand masters division in 23:55.undefined
WATERMELON SERIES #2… LAKELAND, FL... 5/21/2021
Watermelon Series #2… Lakeland, FL… July 10th, 2021
34th overall–Rebekah Haddad finished 1st in 15-19F in a PR time of 21:08.
37th overall–Chuck Talley finished 1st in 60-64M in 21:18 with a 6:51 pace.
156th overall–Amanda Cross finished 6th in 35-39F 25:49 with a 8:18 pace
235th overall–Curtis Cross finished 15th in 35-39M in a 28:07 with a 9:02 pace PR!
hippie dash... saftey harbor, fl… 5/15/2021
Hippie Dash… Safety Harbor, FL… May 15, 2021
Wyatt Bedke was 4th overall in 18:08, while Kelsey Mackey finished a close 2nd in women's division in 18:09. Meanwhile Aimee Epps finished 3rd female overall in 20:33. Also racing was Jon Stein in 27:30.
RUN IN YOUR NEIGHBORHOOD VIRTUAL RACE… 5/2/2020
We brought back racing eventhough on your own. It was worth it as over 70 people did it.
Daniel Kirwa ended with a 16:22 first place. Meanwhile Kelsey Mackey crushed things with a massive 5k PR of 17:06.